Chandelao Garh: Weekend Escape Near Jodhpur
Nestled in a village called Chandelao, 40 kilometres from Jodhpur, is a haveli where once resided the landowners of the area. Now, it's wrought-iron gate, studded with orange bougainvilleas, is the grand entrance to a heritage hotel. You enter into an oasis of quiet, brought to life with the mellow tunes of a birdsong or two. The warm reception of tikka and garland- a Rajasthani greeting for guests- and the large open spaces that compliment its outdoor seating, put the heart at ease as soon as one steps through its high-arches and into the garden area. The wind is heard as it ruffles the leaves, birds are seen fluttering their wings above you, and the warm winter sun shines over the beautiful red sandstone of the haveli. Colours, sounds and smells come together in a garden adorned with bouganvillia flowers and lush greenery, none too overwhelming yet all too endearing.
While the fascinating aspects of history are still anchored into the laid-back mood they've created at Chandelao, far be it for this place to feel old or outdated. Bedrooms are spacious, with a modern outlook and washrooms are fitted with updated amenities.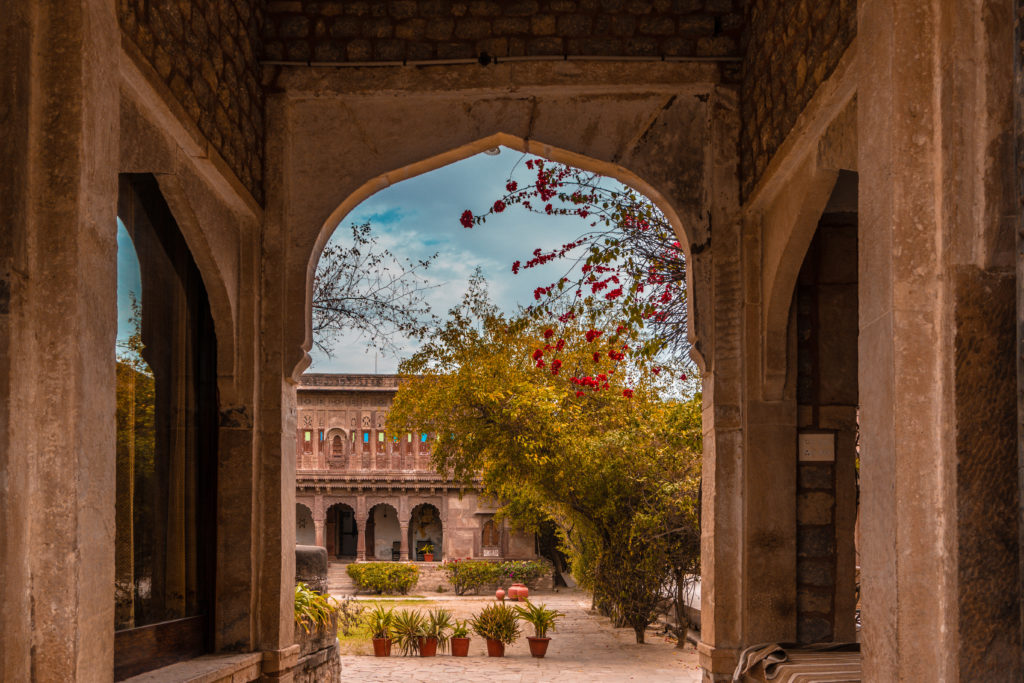 Architecturally, the haveli runs along all sides of a garden that sits in the centre, lined by bedrooms on two sides, and the dining space and lounge area on the other two. To go looking for a hotel stay at Chandelao would be an injustice to this property. They deliver a collection of experiences, with the one purpose of helping you disconnect from the world outside. Leave technology out the door, and connect with the place and its surroundings. They have a pool at the resort, as well as bicycles for hire, should you feel like exploring the surrounding lakes.
The lakes in the vicinity are frequented by migratory birds, and are often spotted at these waterbodies around sunset.
At another spot a few minutes from the hotel, is a temple atop a small hill. If you climb up there, you might catch a spectacular sunset across the horizon and a view of miles and miles of barren lands. The staff from the hotel arranged dinner for us at this spot one evening, a full set up consisting of a make-shift bar and barbecue, as we enjoyed the sunset followed by dinner around a bonfire. It was one of those evenings where everyone put their devices away and connected over conversations and an admiration for experiences that we don't chance upon too often.
The owners of Chandelao Garh have created real bonds with the community at Chandelao, through their efforts to support the locals. They run an NGO with and for the women of the community, where they come together to create marketable products, ready for purchase by visitors. Stepping into the beautiful hut they had created adjacent to the resort, I was surprised to find a sizeable collection of clothing, decor and accessories created in-house.

Home-cooked meals with a traditional Rajasthani influence are served to all guests, and the property manager cross-checks with guests for any dietary restrictions. The staff is welcoming and helpful, and usually around for any assistance.
Chandelao is the kind of place you would want to retreat to, when you need some time off from a fast-paced existence, to really feel like time is moving slower and you're connecting with the world around you. And it helps that this little heritage resort is as tranquil as they come.