Forever chasing sunsets, I find there's something magical about this kaleidoscope of colours thrown across the sky like paints on a vast, endless canvas. While there's something surreal about the sun setting over snow-covered mountains peaks, the #GoodVibes truly come from beach sunsets, best accompanied by fresh watermelon martinis. I've travelled far and wide to satisfy the travel bug inside of me that never tires from gulping down one sunset after another, but this one left me overwhelmed by the enormity of the sun setting right before my eyes. It was like watching a live sunset performance through an Instagram filter on its highest saturation- only from the best seats in the house. The pictures that follow are completely unedited. Or, you could watch my #Vlog from Sri Lanka: 
I often bump into someone in Starbucks and vaguely remember him telling me once that he worked in the hotel industry. A few days before my Sri Lanka I ran into him once again, and he let me in on a little secret. He had worked as the COO of the Galle Face Hotel in Colombo for many years, and gave me a recommendation that became the highlight of my 3 days in Colombo.
He said that I should visit the Galle Face Hotel a few minutes before sunset for high tea. I only took it seriously because my hotel was across the street from this hotel and it was hardly a bother. So I walked through the elegant but modest lobby of the hotel and immediately saw a glass door with a golden handle and all I could see through it was the ocean. The door opened up to the sea and only upon approaching it did I realise that there was an open cafe next to the pool, which was a level above the sea with stairs leading to a tiny private beach area.
The high tea was pure seaside sophistication, adequately stocked with scones, fresh strawberry tarts and sandwiches. Just as we were done sipping tea, the sky turned a shade golden-orange.
The sunset went from Golden-Orange to a pinkish rose-gold hue in less than ten minutes. We hd stepped down to the beach area and there was nothing but the ocean and the massive sky ahead of us.
The pink turned bright orange and eventually as the sky grew darker, it was a mix of light pink, dark pink, light blue and dark blue, reflected so perfectly by the ocean. These #NoFilter pictures describe it better than any words can.
It was all-encompassing, with the beach and pool areas tainted in different colours. We stood watching, spell bound and captivated, as the sun descended through various colours before finally calling it a day. It was like being part of something bigger than our limited world-view allows us to experience in everyday life.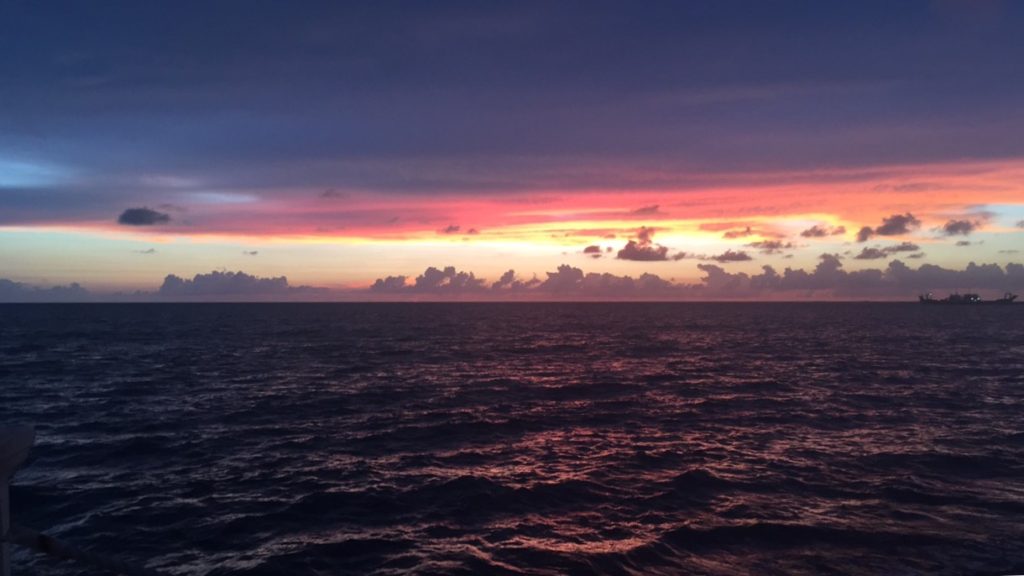 If there's one thing you should experience in Colombo, it's high tea and sunset at the Galle Face Hotel. They say this tiny strip of beach is the last piece of land between Sri Lanka and South Africa, if you travel in the same direction. Nothing but the ocean between you and Africa.