A four-day trip to Bali best described in a single word: HECTIC! Busting one big myth right off the bat- Bali is not all that close. It isn't close at all, and specially not from Delhi. In fact, it's 8 hours of flying time to get there. Add to that a layover, and you've found yourself traveling to an island that's closer to Australia than it is to India. Given that many travel companies sell Bali as a short-haul (meaning short-distance or nearby) destination, many aspiring tourists believe that Bali is the ideal quick getaway. But to travel that far for four days might not serve everyone's wallet. Besides, there is so much to do, see and experience in Bali, that anything short of 7 days would barely be scraping the surface. The reason Bali is sold among other short-haul destinations is the ease of getting there, reasonably priced air tickets, that it is visa free for 30 days, and is affordable on-ground- making it a lot easier to travel to, without months of planning and saving. Watch my IGTV video for all the info you need to pick your airline and locale in Bali.
As far as an impromptu, hassle-free trip goes, you can back your bags and head over to the airport. When making short trips, one does leave out quite a lot of big must-dos, and that was the case with me as well. As much as I tried, I couldn't fit anything else into my day besides the itinerary I've mentioned here:
Day 1
We flew Singapore Airlines, which landed early morning at approximately 9:30 am Bali time. But due to the long queue and the drive from the airport to the hotel, by the time we checked in, it was already past noon. We crashed for a few hours and ventured out in the evening to a beach club.
4:30 pm: Potato Head Beach Club
7:30 pm: Motel Mexicola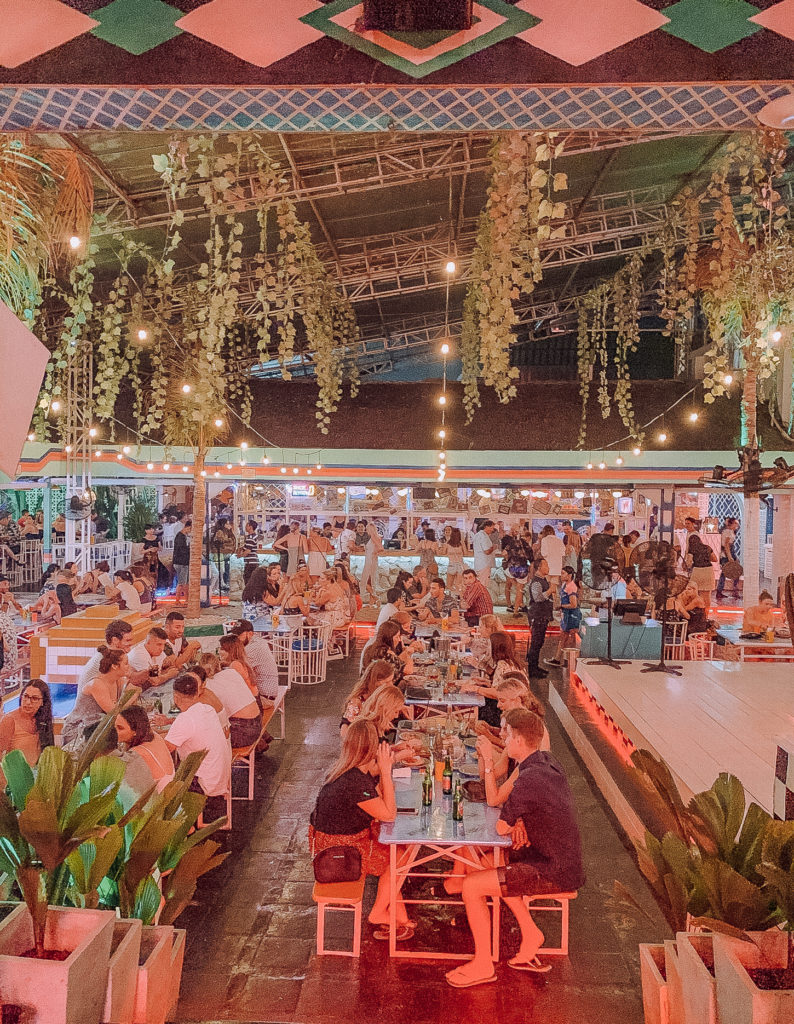 Given the exhaustion from travelling and the early start we had planned for the next day, we returned to the hotel at 10:00 pm and called it a night. Both the clubs I've mentioned above are in Seminyak, and within walking distance of each other. Seminyak has the best cafes and restaurants lining the entire street, and you can hail a cab off the street for IDR 10,000- 20,000 or walk down. We chose to walk most times.
Day 2
The tiny islands around Bali have far fewer crowds, and due to their limited commercialisation, have infinitely better and prettier beaches. Ferries run throughout the day, and some choose to spend a single day at the island, while some stay overnight and a few others spend a few days at the islands. Gili is one of the scenic, easily accessible options. Recently though, many people have been visiting Nusa Penida for its beautiful blue waters and bays perfect for snorkelling and diving. The aerial view was a surprise we cherished once we got there.
7:15 am: Picked up at the hotel
8:30 am: Boarded our ferry for Nusa Penida
9:30 am: Reached Nusa Penida, met our guide and drove to the far end of the island, to a picture point near Broken Beach. The beach was an hour's walk downhill, and in light of the sun shining down at us with all its might, we decided to skip the tempting secluded beach with its three different shades of blue water. Something's gotta give when you're on a tight schedule.
11:15 am: Stopped for lunch midway, while driving back to the other side of the island to Angel Bay and Crystal Bay for snorkelling.
1:30 pm: Snorkelling! Nusa Penida is a wonderful place to go diving, with clear water and beautiful marine life to admire with wonder. In comparison to Thailand though, they don't offer any safety features or instructions for first-timers going Snorkelling. We were put in a boat and set off with a "guide" who was really just a boat helmsman who could barely speak English. Hilariously, all he muttered was "jump now" after I stared at him in bewilderment, entirely unable to figure what it was he expected me to do. Luckily, I was traveling with my dad who's snorkelled several times before and showed me the ropes before the sea had a chance to wash me away into a deep dark corner.
2:30 pm: Hung around at the bay, splashing about in the water.
3:00 pm: Left the bay and headed back to the ferry that was scheduled to depart at 3:30 pm for Bali
6:00 pm: Reached our hotel and showered.
7:00 pm: Dinner at Sea Salt, Alila Hotel, Seminyak. One of the most delicious seafood meals I had in Bali, and strongly recommend.
Day 3
The day of rest! Or so it should have been. But off we went, to explore as much of Ubud as we could cram in a day. Since we only had a day, the Instagram-worthy images of Ubud's fancy hotels amidst rice forests and coffee plantations just weren't meant for us. We planned a day trip, and were told that it would take approximately 3 hours to get there.
9:30 am: Got into our cab and left for Ubud
12:00 pm: Reached Ubud and stopped at a coffee plantation called Uma Pakel. I was impressed by how well-managed this facility was. Right from the time we stepped out of our car, we were hosted by one of their staff members who was a treasure trove of information without being pushy about anything at all. These coffee plantations also have swings and other picture spots, and take great pictures for visitors. A lot of freebies are offered at these plantations, including an entire tray of different types of coffee. Try the Luwak coffee, and if you're interested in knowing more about it, read my Instagram post to find out the secret ingredient you REALLY weren't expecting.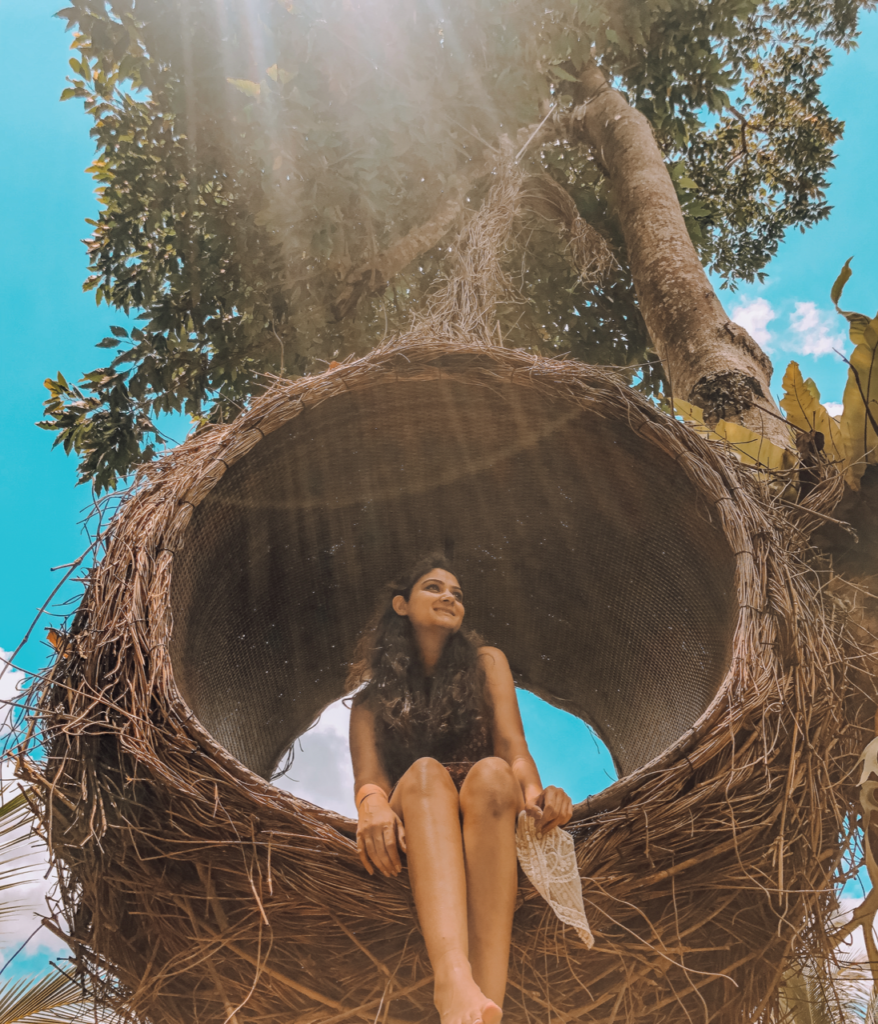 1:30 pm: Viewing spot to see Mount Batur and the lake (I was disheartened to skip the early morning hike up the volcano, but to get there in time to hike, we would have needed to leave our hotel in Seminyak at 3:00 am. Another thing that can't fit into a 4-day itinerary). We had a buffet lunch at the restaurant at this viewing spot, and it was passable at best. Most tour guides will take you to this spot and drive you back, letting you believe you've seen all of Ubud. But the best restaurants are in Ubud market, and near the lake. So be pushy if you need to, and go to the right place for lunch. This commercial restaurant was a bit underwhelming.
3:00 pm: Tirta Empul Temple. We felt slightly shameless about visiting Bali and skipping the temples, and so, driven by guilt and a genuine amazement at the intricate temple architecture we had seen along our drive, we landed up at Tirta Empul Temple and wandered around to check it out before heading back out to Ubud
4:15 pm: Ubud Market. Similar to Seminyak but not as upmarket, this street is full of cafes and street shops alongside the brands and boutique stores. The vibe is a lot more easy going in Ubud, when compared to Seminyak, with more backpackers and street shoppers flocking to this corner of the island. There's an entire street dedicated to shopping, but mostly everything is on the expensive side. We didn't have much time here, and would have loved to grab a bite, but there was still a waterfall left to enjoy, and we had to get going sooner than we would have liked.
5:00 pm: Tegenungan Waterfall. The sun was setting as we perched ourselves at the cafe opposite the fall, sipping on coconut water and watching tourists enjoy the water. Another pitfall of visiting a destination like Bali with limited time on hand is the number of experiences you would miss out on. It was a dip-friendly fall and people had jumped right in, into the natural pool surrounding it.
6:00 pm: Began driving back to Seminyak.
7:00 pm: Reached Seminyak and went to Shooters for games and drinks
9:00 pm: Moved the party to Motel Mexicola once again, for dinner and follow-up drinks
Day 4
This was our last day in Bali and we left it empty, in case we felt like re-visiting a place or wandering aimlessly around town. We spent the first half doing just that. Power breakfast at a cafe I had been stalking on Instagram for over a year, followed by a stroll in the heat. We swung by boutique stores, got ourselves some fresh gelato and when the heat became unbearable, moved to phase 2 of the day's plans.
11:00 am: Breakfast/brunch at Sea Circus. One of the most colourful cafes that I only chanced upon on Instagram. They have one of the most beautiful Instagram feeds, and that's partly the reason I've waited a year in anticipation of seeing this place in the flesh. This cafe may not land up on many "top cafe" lists, but the food does complete justice to their massive Instagram following and the hype they've created. I had the massive thick chocolate shake accompanied by the fairy pancakes topped with cotton candy and strawberry compote, and this may have been the very first time a dish tasted as good as it looked. It's also a rad picture spot, because of the graffiti outside and the colours inside!
3:00 pm: Jimbaran Beach, Menega Cafe. This place cooks sea food inside coconut shells, tossed in a special sauce made in-house and, by jolly, does it taste GOOD! The tiger prawn is so delicious, with a really unique flavour that comes from those coconut shells they're cooked in!
4:30 pm: Rock Bar, Ayana Resort and Spa, where we were left speechless by the enormity of the hotel and its grounds. Rock Bar is rated one of the best sunset spots in Bali, and the sky puts on a spectacular show, with an array of colours ranging from pinks to hues of orange and yellow and blue and purple. This spectrum of colours thrown across the sky unfolds dramatically in front of a vast sea thrashing against the massive rocks where this bar is set up. While the sunset is nothing short of perfect and the cocktails are delish, the non-resident visitors at Ayana aren't given the best seats in the house. It's worth stopping by for a drink, but unless you're out on a date, you may not want to hang around too long.