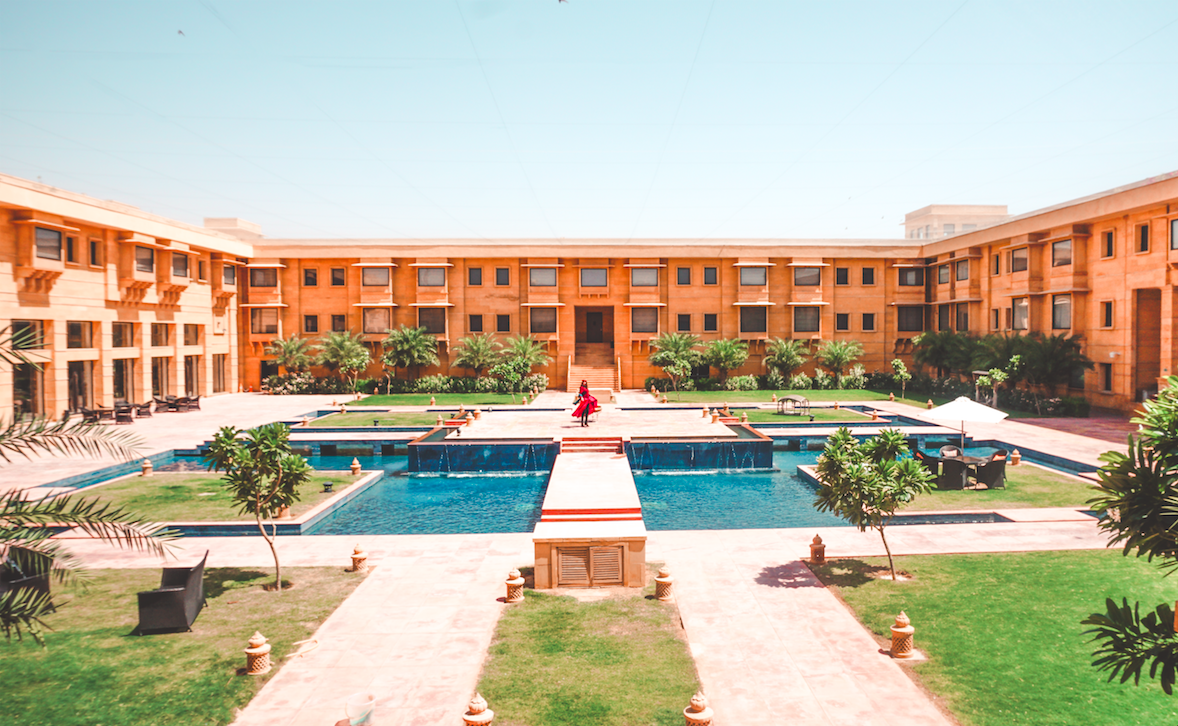 I arrived at Marriott Jaisalmer in their wifi-enabled cab, as the doors swung open to a traditional Rajasthani welcome of red tikka and rice, accompanied by a turban that made its way to my head. And there it sat, as I sipped my welcome mocktail and carried out the check-in formalities, assisted by their concierge. When I walked into my room a few minutes later, my bags had already arrived and a welcome platter full of local delicacies awaited my arrival.
At first glance, I noticed the size of the room- spacious and wide, large enough to accommodate a family. At second, the two seating spaces that further accentuated its utility. But finally, I drew the curtains, and there I found, the Jaisalmer fort in full view. The rooms at Marriott Jaisalmer are entirely modern, with a touch of the traditional- a theme that extends to the general outlook of the hotel. Throughout the property, modern interiors complement its subtle Rajasthani touches, bringing together two important elements- light and water, in a comfortably subtlety that is neither overpowering nor underwhelming. At the heart of this beautiful masterpiece, is a centre court where water elements come together from four different angles, extending on one side to join another water body, and another. Essentially, this waterbody runs through the centre of the court, joining two wings of the hotel before meeting an inviting temperature-controlled pool. It is around this tasteful centre piece that the gold sandstone building that houses guest rooms, exists.
Hotel and Grounds
The property is located close to the city- specially in Jaisalmer, a city that is confined to a radius of 3 kilometres (so to speak), it is very close to almost everything. The city is built around the fort- as is the case with all cities in Rajasthan, and the fort is visible from the hotel- an indication of proximity better than any other.
There is a temperature-controlled pool surrounded by cabanas and a shack serving food and beverages; a gym, a spa, and a children's play area. There are two restaurants on the property- the indoor restaurant called Jaisalmer Kitchen and Wyra- the recently launched rooftop restaurant. They have a bar called Dunes, with an indoor and outdoor courtyard seating. During the winter's busy season, they have Rajasthani folk dance performances at their stunning centre courtyard, visible from the Dunes bar. At this time, they also open their chaat and sweets corner- The Mithai Company, for those who wish to experiment these in the safety of hygienic cooking conditions. The hotel has an in-house store which sells ethnic Rajasthani and Indian clothes, fabrics and interiors.
Restaurants and Food
Bite into a piece of the Raan at Wyra, and you wouldn't feel like stepping out of the hotel for a meal again. For an authentic Rajasthani experience, order the Thali at Jaisalmer Kitchen. Across my experiments with food around the city, I found that the lamb served here is the softest and most melt-in-the-mouth that I've encountered in Jaisalmer. The food is delicious- whether you order something off the Indian food menu or wish to stick to European options. Marriott serves a good buffet spread (including breakfast), that is consistently flavourful, offering guests a host of different dishes to pick from.
Spa and Activities
I tried the aroma therapy oil massage and a blue lagoon water bath at the Quan spa, that began with a foot rinse followed by the massage, 30 minutes in the lagoon water bath, and finally a relaxing herbal tea. The spa is run entirely by Marriott, with full-time experienced staff. They have single treatment rooms as well as a couple's treatment room. The spa has a sauna as well. Given the volume of visitors they receive in the winter season, it is recommended you make an appointment well in advance.
In terms of other "things to do" the pool is open from 6:00 am till 8:00 pm. There is a kids play area called "Crayon" which is fully equipped with toys and games. The hotel arranges cabs for city tours and day trips. They also have local suppliers for tours of the desert and other experiences and can connect you to them.
Staff and Service
True to the Marriott belief of "above and beyond," their hospitality is unmatched. I spent 24 hours at this property, and at the end of it I was bidding goodbye to friends. Everything went off without a glitch, something I would attribute to incredible work culture and the people happiness meter of its staff. They are one big happy family amongst themselves- a warmth that is evident to, and also extended to, its guests. Seamless collaboration between different departments comes to light as everything runs smoothly and effectively. This is a staff eager to please, and also a staff that genuinely enjoys their interaction with guests.
Why you should visit:
With direct flights from Delhi, Mumbai, Ahmedabad and Surat starting in October, its a convenient one-stop getaway (flight routes and timings are subject to change. Please cross-check before planning your trip). During the summer months, it's a convenient flight change at Jaipur. Contrary to popular belief, you can visit this place during the summer months- or at least, from August onwards. This hotel is an ideal staycation option- for you can spend the day relaxing at the hotel, and venture out in the evening to the dunes or to the fort that is open throughout the night. It's comfortable and cool in the evening, and for those looking for a lazy and luxurious weekend, this is the perfect getaway. It is also a great place to come for a family vacation- with a spacious centre court and its different water elements to fascinate young kids, a kiddie pool adjacent to the main pool, and the dedicated kids play area. Another advantage of the hotel is its spacious rooms and sitting areas inside the rooms, that can easily accommodate extra beds and families for some family R&R time.
Given its spacious centre courtyard, conference/banquet room and adjacent garden enclosure, this is also a great hotel for a destination wedding. In fact, they've hosted weddings before and some pictures are available on their social media handles.
Marriott Jaisalmer is in close proximity to everything in Jaisalmer. It is a luxurious experience that is also every bit a value for your money.